The Bournemouth Years (Lead Guitar)
Nothing is for ever in the world of show business, and Eddie Evans and I left the Tennessee Tramps to put together a rock group. By then the British rock'n'roll scene was getting under way, locally as well as nationally, and the moment I heard Cliff Richard's first record, "Move It" – still the best record he's ever made, and which incidentally the Drifters/Shadows didn't play on – I knew rock'n'roll was what I wanted to play. I sold the bongo drums that had by then become a supplement to my washboard, and bought my first guitar, learning the chords, as did we all, from a slim volume titled 'The Skif-rok Guitar Tutor', which was soon followed by the Bert Weedon equivalent, 'Play in a Day'.
The next few months saw a succession of personnel changes, with musicians, including Ed Roberts, Ben Bennett, John Penhale, Mike Bowman, (who's now an eminent artist: please see his website), Rob Tibble, Tommy Mouland, Pete Handford and Mike "Monty" Montgomery, (who will appear again later) switching allegiances as regularly as a bunch of Afghan warlords, until one night I found myself playing guitar in a line-up, which included George "Zoot" Money, who took his stage name from Zoot Sims, the jazz tenor sax player. I knew Zoot by reputation – he was reputed to be able to swing even on the French horn, though the commercial appeal of that escaped me. I was, however, still unprepared for the larger-than-life, anarchic character who is so well loved in the music business to this day. (Incidentally, you can see a clip of Zoot and me doing "Georgia on my Mind" at the Bull's Head, Barnes in January 2011 by clicking on the YouTube button on the right of this page). On our first gig, Zoot insisted on swapping instruments every other number, and, in a healthy spirit of competition, I followed suit, skipping from guitar to bass, and then drums, with probably a bit of piano thrown in. The line-up evolved into a regular band, with Zoot on vocals, and me on guitar. That line-up was to move us on in rock'n'roll circles by a quantum leap. We got through an audition for Reg Calvert. (For more details of Reg please click on the link to The Reg Calvert Story and see also below.)
Reg ran a rock "factory" based in Derby Road, Southampton – then a thriving area for prostitutes, though alas we never managed to find any, at least to our knowledge. He employed a core of singers and musicians that he shuttled round the country as "headline" acts – Buddy Britten, Colin Angel and the Choirboys, Eddie Sex (yes, really), Ricky Fever, Danny Storm and Baby Bubbly. The concept was loosely based on Larry Parnes's "rock stable", but, as Marty Wilde later put it, "the similarity ended right there."
Reg's formula was simple. He would hire the biggest indoor space he could find, usually a Territorial Army drill hall, (the stage alone at the Newbury one was bigger than most venues), and rotate the acts from his factory each week. These he supplemented at one end with the occasional "big" name such as Vince Taylor, Rory Blackwell, Roy Young, Billy Fury, etc., and at the other by local groups. Nothing like this had ever been seen outside of a concert hall, and the kids rolled up in their hundreds. The sound system was, for those days, enormous, and the audience could feel the bass coming up through the soles of their shoes. Reg had learned acoustical engineering during his National Service, and used a souped-up Leek amplifier driving a battery of massive home-made speakers, each with its airspace at the base, and all of them pointing to the back wall or ceiling. "Never at the audience, if you want a good sound," he maintained. I now suspect he was just avoiding the cost of fold-back monitors.
Reg's attention to detail did not however extend to what would now be called health and safety. The whole PA system was connected to the mains by a couple of matchsticks, and the thought of earthing this behemoth never occurred to him. When the musicians plugged in, they were probably closer to paradise than they realised.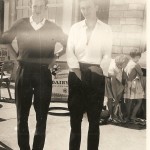 We were now billed as The Stormers and had joined the grown-up rock'n'roll scene, playing in front of large audiences, and actually getting paid for it, albeit modestly, and occasionally backing big name acts such as Rory Blackwell. Most of our gigs were at the Holdenhurst Road drill hall in Bournemouth. Every so often, however, Reg's van would roll up outside my mother's house and transport us off to a gig at the Small Sidney Hall, Weymouth. Sadly, that's now a supermarket car park, without even a blue plaque to recognise its importance as the place where I signed my first autograph. (NB. Zoot Money has recently reminded me that on one gig at Weymouth Rory Blackwell brought with him an old battered trombone that he'd bought in a junk shop. While Rory was taking a break from drumming he proceeded to drown out our attempts at a Duane Eddy instrumental by blowing with all his might from the wings. It sounded even less musical than my version of Duane's Rebel Rouser.)
It was at the Small Sidney Hall that we first backed Screaming Lord Sutch. By the standards of a few years later, Dave Sutch's appearance might have been considered only mildly outlandish, but in 1959/60 his long, unkempt hair (see first image in Gallery 1960s) came as a shock to anyone who saw him. This included my mother, who invariably insisted on peering inside Reg's Commer van when it pulled up outside our house in Cowper Road, Moordown to collect me for a gig in Weymouth, probably to ensure that her teenage son was only mixing with "nice" people. Admittedly, on most of these occasions the Sutch barnet was tucked up inside the porkpie hat that he regularly wore offstage, but she did at least once glimpse it au naturel and seemed strangely quiet for a few days afterwards. The Screaming Lord Sutch act was, of course, as much theatrical as musical and he didn't confine it to his own sets. I have an abiding image of him swinging on the roof supports at the Small Sidney Hall doing his best to interrupt Zoot Money's vocals by belting out Tarzan calls. That must be one of the only instances ever recorded where anyone has out-looned Zoot Money. Dave Sutch was, though, more knowledgeable about Chuck Berry than anyone I'd then met, and introduced us to several of Chuck's more obscure numbers. And, according to a 'diary' I kept at the time, on one of the gigs with Dave Sutch, Johnny Kidd came down to Weymouth with us in the van to watch the Sutch act (I guess they must have known each other). This was shortly before Johnny Kidd and the Pirates recorded 'Please Don't Touch' and long before 'Shakin' All Over', so he didn't make much of an impression on us, and of course he wasn't sporting his eye patch. We did play support for him later at Eastleigh after he became better-known, and copied his high-kicking routine in Please Don't Touch (and were still doing it in 1961 – see image at the top of this page).
Once again, however, it was time for change, and Zoot and I decided to leave the group, though we went our separate ways. This left The Stormers with two vacancies – vocal and lead guitar. They solved the problem by getting Andy Summers, later of The Police, to fill both roles, though not for long. Andy's first, and possibly only, vocal performance with The Stormers was memorable, though perhaps not in the way he intended. He stuck to playing guitar after that, and the rest is history. I ran into Andy again in 2002 and he's still the same nice bloke he always was.
Meanwhile, I'd joined The Furies, at the invitation of two of their members, Howard "Eddie" Parsons on drums, and John "Jet" Berryman on bass. (John is now an Associate Lecturer in International Relations at Birkbeck College, London (see
link
).I knew them both well, and had played with them in a band put together for a school concert, with Rob Tibble on vocals. At first, I had to share the lead guitar slot with the bandleader, Jeff, but he left soon after I joined, sadly missed for the huge American car in which he used to drive us to gigs. The singer was Les Fisher, a remarkably tough individual, who used to spurn the line of policemen through whom we were usually escorted after a gig at the Small Sidney Hall, Weymouth, preferring to round off his evening by fighting his way out through the melee of drunken matelots. He left soon after Jeff, and Tony Head joined the group. In the time since I'd last played in a group with Tony, he'd prospered, working in the building trade as a pointer, and he could afford a proper piece of stage gear – a powder blue jacket. To the rest of us, appearing in our dark grey school suits, with only a red tie to brighten the monochrome image, Tony's jacket represented the epitome of showbiz glamour. He could sing, too.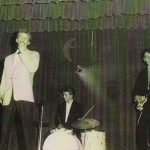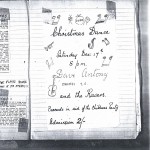 Thus began Tony and the Ramrods, shortly to be renamed, at the suggestion of Dave Jay, Reg Calvert's right-hand-man, Dave Anthony and the Ravers. For an instrumental trio plus vocals (the absence of a rhythm guitarist meant I had to switch back and forth between chords and lead figures pretty quickly) it delivered a big, professional sound, backed up by stage movements, copied from The Shadows, with a bit of Johnny Kidd and the Pirates' high kicking thrown in. Reg Calvert and his wife, Dorothy, liked the band, and gave us progressively more work. We also continued to back "major" acts, such as Vince Eager, Johnny Gentle, Jimmy Justice and, once again, Screaming Lord Sutch.
We also regularly shared the bill with The Falcons, an Eastleigh group whose bass-player Heinz Burt, insisted on wearing carpet-slippers on stage. He would later find fame with The Tornados and as a solo singer. I last bumped into Heinz at Joe Meek's north London flat in 1962, where I'd gone along with The Dowlands for a recording session. As we were leaving, The Tornados arrived to record Telstar, which of course subsequently went to No. 1 in both the UK and American singles charts.
Working regularly for Reg we were finally rewarded by the offer of a week's tour of the Midlands. This was excitement indeed. It was a chance to play at being a professional musician without actually turning pro – something I never had the courage to do throughout my musical career, despite several opportunities to do so. Our week's tour started well enough, with a gig at Newbury, followed by a drive north to Clifton Hall, a large mansion outside Rugby that Reg had somehow managed to buy (see link to Pathe newsreel on Clifton Hall). As we drove up the drive towards this vast pile, the house looked stunning in the moonlight. Of course, on closer inspection, it became clear that this was not exactly Downton Abbey – we slept in the servants' quarters, and fed ourselves by stealing cornflakes from Danny Storm (he'd written his name on the packet) – but we didn't care. We were professional artistes, and if one of our eagerly anticipated venues, the "Old Vic", turned out to be a large hut with a corrugated iron roof at Lye, near Birmingham, it didn't matter.
The week's tour was the high point in our relationship with Reg Calvert. His base of operations was now firmly in the Midlands, and he gradually abandoned his South Coast venues, moving on to manage recording acts such as The Fortunes and Pinkerton's Assorted Colours. He was eventually shot dead by Major Oliver Smedley, a vice-president of the Liberal Party, over a dispute concerning Radio City, a pirate radio station off the Essex coast. Reg and Dorothy Calvert's daughter Susan Moore has published a biography of him, Popcorn to Rock'n'Roll, and there's also a chapter on Reg in Johnny Rogan's book Starmakers & Svengalis.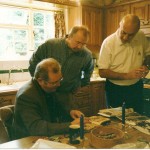 Around that time, the type of venue for rock gigs was changing too. In May 1961, Bournemouth's first cellar club, The Downstairs Club, was opened by a local jazz musician, (or so he claimed), Jerry Stooks. Initially intended to be a jazz club, it soon became a seven nights a week rock venue, and we quickly secured a regular stream of gigs there, which continued when the "Ravers" became the "Rebels" at the end of August 1961 after Jet and Eddie moved away, and were replaced by Mike and Pete Giles, whose playing I'd long admired and about whom more later.
Sadly, no recordings of Dave Anthony and the Ravers/Rebels have survived but in January 2014 two recordings featuring Tony Head/Dave Anthony singing with The Riversiders at a skiffle contest at the Moderne Cinema in 1958 were posted on the Moordown Local History Society website. They may be the oldest surviving recordings of any Bournemouth/Poole group. I'm grateful to Lawrie Waters, bass-player of The Riversiders, for permission to post the link.
Why quit now? Carry on to… the Downstairs Club and the naming of Zoot Money's Big Roll Band.